SynergyDance originator Charmaine Lee is a uniquely accomplished dancer, teacher and Certified Polarity Educator who, over a lifetime of study, travel and intense personal interest in movement, music and especially the healing arts, has evolved the hybrid system of self-healing movement known as SynergyDance.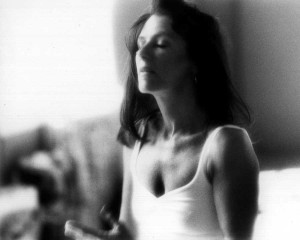 SynergyDance is designed to involve the body as well as the mind and emotions in movement (or "deep play," as scientist and "Molecules of Emotion" author Candace Pert has called it). Drawing its structure from the energy systems of Polarity Therapy — itself a hybrid of Indian yogic traditions, Eastern martial and healing arts and Western holistic approaches to personal wellness — SynergyDance also incorporates world dance and music with this focus on self-healing.
Charmaine was a professional ballet soloist while still in her teens in her native South Africa and performed with three of the four state ballet companies there before joining the British company Ballet Rambert in London. At London's Royal Academy of Dance and in Lesotho, South Africa and Washington, D.C., Lee has studied ballet, modern, jazz, tap, Spanish, belly dancing, African, classical Greek and other styles. To develop SynergyDance, she has merged her accumulated knowledge of the art and anthropology of dance with her extensive studies of healing arts. A practicing registered polarity therapist who studied with James Z. Said, Chloe Wadsworth and Franklyn Sills, Lee has also studied and practiced Educational Kinesiology, yoga (certified by Iyengar), qi gong and tai chi, deep-muscle massage, Feldenkrais, Alexander Technique, Laban theory and cranio-sacral therapy.
"Years ago at Ballet Rambert, we had machines that were similar to Pilates, and we practiced structural alignment, muscle integration and corrective movement," says Charmaine. "But after studying polarity it was clear that if you focus on the physical, you're focusing on the effect. If you're working with the life force, on balancing the mental, emotional and physical, then you are getting at the cause."
After settling in Washington, Lee has devoted most of her time and energy since 1986 toward the development of SynergyDance as a resource for all who actively seek the self-healing qualities of world dance and music. Lee teaches SynergyDance and Still Motion classes at several locations in the Washington, D.C. and Charlottesville areas, as well as SynergyDance and Polarity Therapy professional training courses, and has taught introductory and advanced Synergy workshops at American Polarity Therapy Association conferences in Los Angeles, Washington and Burlington, Vt. and has been presented to attendees at Family Therapy Network annual conferences and a Walter Read Army Medical Center's conference on alternative medicine.
SynergyDance and Charmaine have been featured in the books Everything You Need to Know to Feel Go(o)d by Candace Pert and Magic at Work by Carol Pearson, as well as in The Washington Post, Pathways magazine, Natural Health magazine, Dublin's Image magazine and Allure, Vogue and Self magazines as well as on Washington's WUSA-TV/Channel 9 and WPFW-FM (89.3).