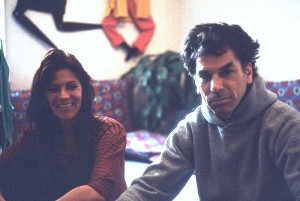 Excerpted from "Inner Washington," by Roger Piantadosi, published Feb. 2, 1990 in The Washington Post Weekend section
. . . It's funny, but you can hear the same tune a thousand times–the one about how successful self-improvement ought to involve both your body and your mind–and never quite get it.
Next time it comes around, though, try dancing to it.
SynergyDance — the holistic dance-movement therapy that founder Charmaine Lee and others teach at Lee's two-year-old Synergy Dance & Healing Arts Center at Wisconsin and Windom NW — is awfully hard to describe in words.
After all, 41-year-old South African expatriate Lee has put some deeply personal choreography into the four distinct parts of every class: Things usually start softly, with prone movements on the floor to the airy accompaniment of flutes. Then, you're on your feet for some studied twisting and flailing, as guitars and percussion kick in. Then comes the really fun part — an en masse, follow-the-leader ethnic-dance improv across the room, back and forth, with lots of hip-thrusting, high-stepping, giggling and Afro-Caribbean drum-beating everywhere. Finally it's back to the floor for solitary stretching and meditation, the darkened room quietly alive with pan flute and koto, and the sound of an occasional sigh, soft laughter — and, sometimes, crying.
Then again, it's not necessary to know anything about choreography — either the modern/jazz/ballet kind or Lee's decidedly anti-choreography house blend — to feel afterward much as you did as a child after a morning of sprinting, crashing and wallowing in the sand at the ocean's edge. Which is how I felt — kind of vibrant and calm at the same time — after having been one of four men in a recent Synergy class of 25 (most of them women ranging in age from their twenties to fifties). And that's because Synergy, like a number of increasingly popular "awareness through movement" schools, isn't so much about dancing as feeling.
This may have something to do with classically trained dancer Lee having created it — she's creating it still, actually — mostly to make herself feel better after retrieving a kidnapped son and fleeing an unfriendly South African government and ex-husband a decade ago, and since then trying to work through one of those alarmingly picturesque lives, which includes juggling the daily hassles of owning a small business as much as healing the scars she says were caused by having been repeatedly harassed and even drugged and questioned by South African police.
Since coming to America 10 years ago, Lee found herself in a unique position — exposed to the ethnic cultures of Africa and Asia, where dance is a more routine and religious part of life, and at the same time intimate with the details of Western dance performance, where the emphasis has come to be "all intellectual forms and structures — no internal feelings and relevance."
Through history, Lee says, it's been dance that "strengthens and binds a people, and helps them understand their cultural values . . . . In America, they used to have such a thing — there would be square dancing every Friday night, and people would come and clap their hands and shout — and boy, they didn't need any therapy. It's when you have this contained, ritualistic, regular thing that you can vent your emotions, and your pain and joy — and not carry it in here" — she taps her heart — "as so many of us do."
The "alpha" state is what she's after, Lee says, borrowing a term from brainwave research. It's the same state in which Larry Bird makes a three-pointer, she says. And in which ethnic dance around the world is performed.
"We've been taught that the external image is what's important," she says, "but so much of the ecstasy of dancing is gone. Even at the disco, so often you're thinking about who's watching you and whether you're wearing the right clothes . . . . What I'm saying is, you have all this knowledge, you have all this dance within you — and it's a matter of you finding and enjoying that dancer within you." She pauses, smiling. "It may take a few classes."
Karen Doubek says it's worth the wait. Doubek, a 39-year-old homemaker and mother of two boys who heard about the class accidentally, having been on the mailing list of the ballet school formerly housed in the same quarters, says she started coming mostly just as an alternative to another soulless aerobics class.
"After about a year, in the middle of a class, I felt something physically click, right here," she says, touching just below her sternum. "I felt like I was flying, like I could do this forever — and it lasted. It's been a real spiritually, emotionally enriching thing. I really understand now the meaning of holistic — it's like, everything is totally related, what you do physically is really related to how you feel and how your brain is working. I've never experienced anything like it."
At least not all at once, anyway. Synergy's name comes from Lee's deliberate mix of a whole rainbow coalition of applied kinetics. The typical class incorporates elements of such well-known movement therapies as Alexander and Feldenkrais, and especially polarity therapy — a healing art similar to acupuncture, which taps the five specific energy fields, or elements, said to comprise the body's electromagnetic presence.
It also draws from Chinese tai chi movements and, in the first few minutes of the class, the crossing, diagonally opposing-limb exercises of Educational Kinesiology, a process based on Stanford research into the brain's electromagnetic activity and now used in many California schools to help boost students' creativity by stimulating all the hemispheres of the brain. (You don't need to know this to feel better after class, obviously, but just in case, Synergy offers regular workshops on all of the above and related holistic and inner-growth topics, as well as daily acupuncture and massage therapy, tai chi and aikido instruction and swing, ballroom, Latin and "new modern" dance classes.)
"All I know is, I haven't been here in a month, with the holidays and all," says lobbyist Mary Colville, 39, plopping cross-legged onto the floor of Synergy's lounge before a recent class, "and I'm suicidal." She laughs.
"I'm an abstract painter," says Washingtonian Lorraine Padgett, 34, "and I rely on my subjective focus and my intuitive senses, and Synergy has very definitely heightened those intuitive senses. It has changed me a lot — I feel more freedom in my work, more spirituality in my work, and my work flows more freely, so it's given me greater confidence. Which I never thought I was lacking." She also laughs . . .