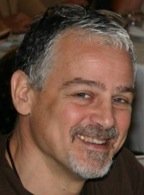 Roger Piantadosi has been sitting at a piano since he was 5, but only recently started composing and recording professionally. For most of his adult life he worked as a writer, editor, photographer and, after the internet changed everything, a web geek (okay, information architect) at The Washington Post. Since May 2008, when the internet helped bring early retirement to yet another few hundred Post employees, he's been running his own music production, writing, editing, photography and web design/development company out of the home in Virginia's Blue Ridge which he shares with SynergyDance founder Charmaine Lee. Since January 2010, he's been the editor of the weekly Rappahannock News, based in a very different Washington (known to many as Little Washington, Va.)
Here's Roger's page on Facebook, where you can hear some of the tracks from his latest CD as well as current stuff he's working on.
His first CD, "SynergyDance, Vol. 1," was released in December 2008.